The Supercar Night Parade is back.
From 09.00 to 19.00 it was possible to admire all collectors who own sports and historic prestige vehicles such as Porsche, Ferrari, Lamborghini, McLaren, Maserati, Pagani, Bugatti, Mercedes-Benz AMG, BMW M series, Audi RS, Aston Martin, Bentley, Rolls Royce, Jaguar, Lotus and other unique models.
The presidential parade, followed by the slot of cars led by journalists, traveled the streets of the historic center of Turin and the collectors along the procession to get to Parco Valentino and enter the Salone to then leave the supercar in a reserved area.
The departure of the Supercar Night Parade has followed the vehicles driven by presidents and CEO brands exhibitors and delegates of the automotive world, that have driven the most rappresentative car of their brand, previously exhibited in car display, inside the Valentino Castle yard, creating an exclusive runway.
The presidential parade, preceded by the awesome Formula 1 and followed by the cars driven by journalists, passing by the city center of Turin and the collectors and proceed the parade arriving to Parco Valentino where all cars has been left in a reserved area.
Il percorso della Supercar Night Parade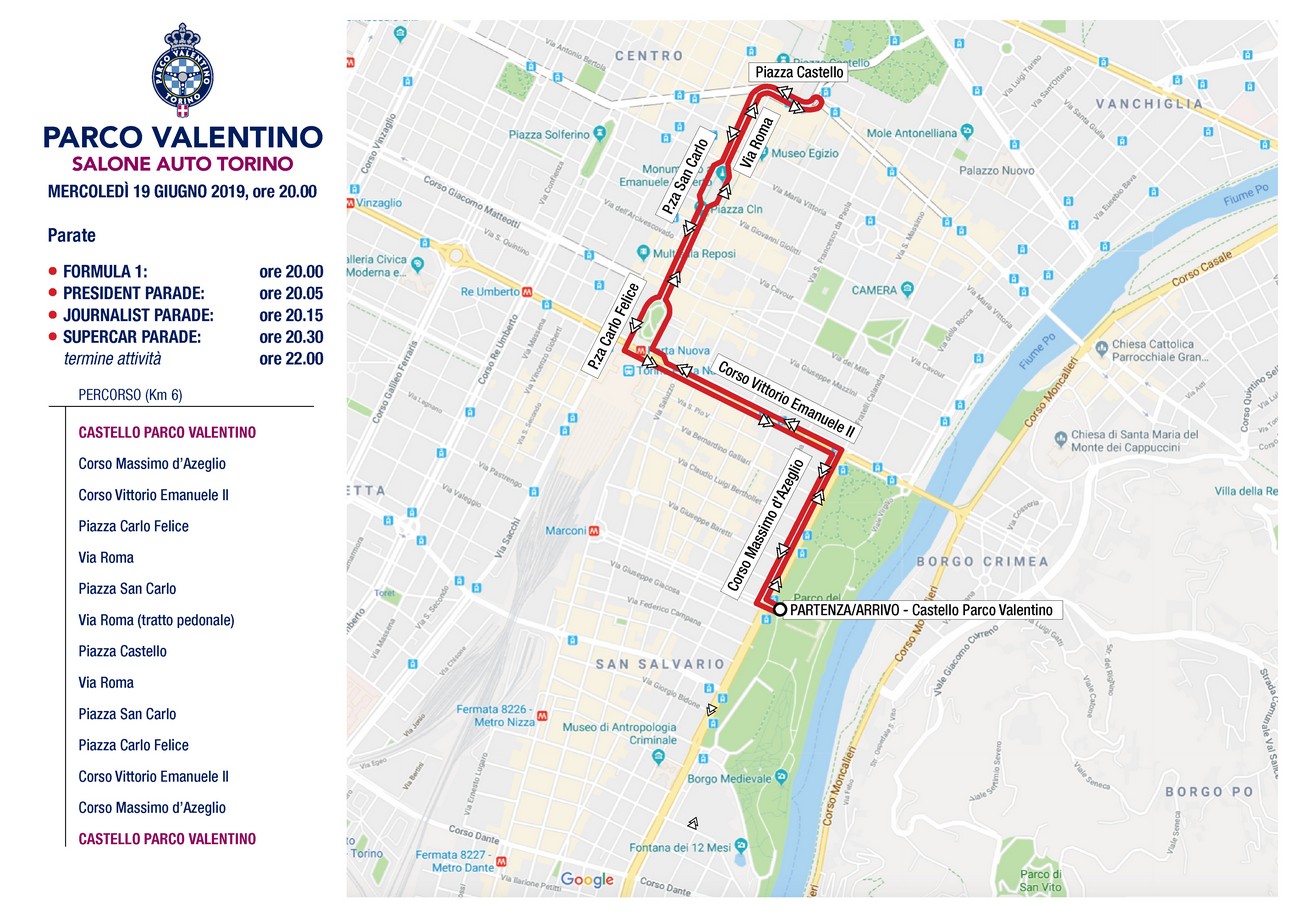 The automotive world personalities who will participate in the President Parade during this 5th edition, strictly in alphabetical order, are: Jörg Astalosch and Markel Yoshida - Italdesign, Giuseppe Bitti of KIA, Tomomi Otsuka (EVP Toyota Gazoo Racing) and Mauro Caruccio - Toyota-Lexus, Fabio Capano - Lexus, Michele Crisci - UNRAE, Giampaolo Dallara, Fabrizio Faltoni and Marco Alù Saffi - Ford, Leonardo Fioravanti, Fabrizio e Giorgetto Giugiaro, Radek Jelinek Mercedes-Benz, Francesco Fontana-Giusti (Renault Group), Daniele Maritan - ATS, Simone Mattogno - Honda, Bruno Mattucci - Nissan, Marco Melandri with Yamaha, Giuseppe Lovascio - Mitsubishi, Massimo Nalli - Suzuki with Carolina Kostner, Giancarlo Minardi, Massimo Nordio (Volkswagen Group), Horacio Pagani, Luca Panizzi Spice–X, Paolo Pininfarina, Piergiorgio Re - ACI Torino, Sergio Solero - BMW, Angelo Sticchi Damiani President ACI, Alfredo Stola - Studiotorino, Gaetano Thorel - PSA, Mario Verna - SsangYong, Stephan Winkelmann - Bugatti.