Registrations for the 2019 Grand Prix are closed.
The Valentino Park Grand Prix is ​​the flagship 5-day automotive event in Turin. Supercars and classic cars of great value to collectors and clubs have paraded from Piazza Vittorio Veneto to reach the Reggia di Venaria in the traditional crowd bath that the public of the event knows how to pay.
Over 150 crews gathered in Piazza Vittorio Veneto from 08.30 am on Sunday 23 June 2019 for the usual car display that attracted fans and the public. The departure of the first cars took place at 10.30 from Piazza Vittorio Veneto, along the streets of the city center including Via Roma entirely closed to traffic, the hills near Superga, and arriving at the Reggia di Venaria, where lunch was held, for a total of 40 kilometers. In addition to individuals and clubs, the protagonists of the event were also the prototypes and one-offs of the style centers and the protagonists of Motorsport history.
Radio Monte Carlo animated the crowd throughout the event with a comment by Marco Porticelli from the Via Roma stage.
Register your vehicle to Gran Premio Parco Valentino
Percorso Gran Premio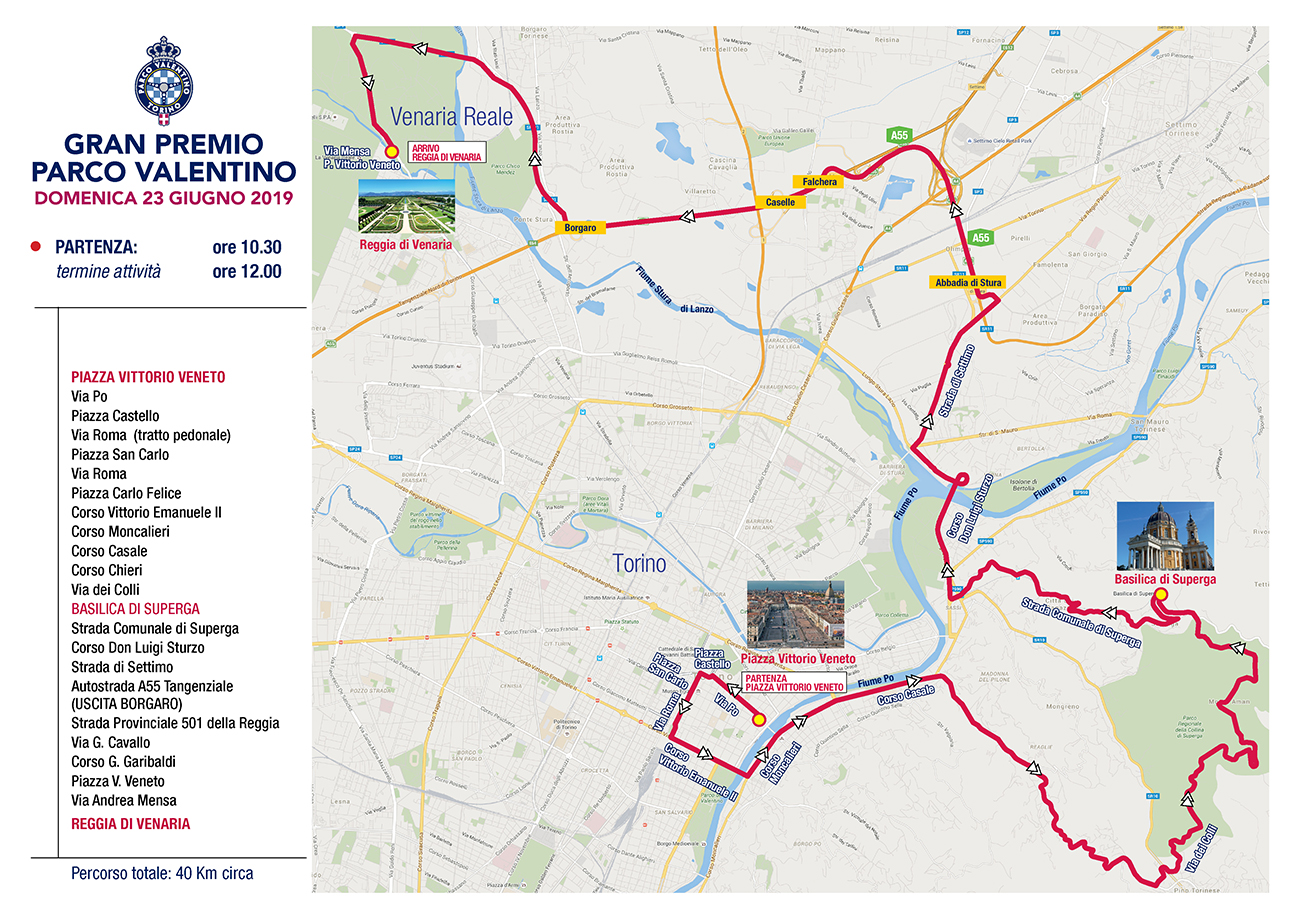 Gran Premio Parco Valentino 2019 registration completed.
PROGRAMME
​08.30 am - 10.00 am Arrival in Piazza Vittorio Veneto, registrations and car display of the vehicles that will participate in the parade of Gran Premio Parco Valentino.

10.30 am Start of the first car.

11.30 am First arrivals of the vehicles and Car Display at Reggia di Venaria Reale.

1.00 pm Lunch in the prestigious halls of Reggia di Venaria Reale.

3.00 pm Greeting of the authorities and prize-giving ceremony.

4.00 pm End of the event.​